About Elder Emo Therapy
I consider myself an Elder Emo - someone who grew up loving black clothing, band tees, and concerts. But as I tried to conform to society's expectations as a young adult, I felt miserable and lost. It wasn't until I did some deep introspective work (aka therapy) and focused on my own needs that I realized what was missing: authenticity.
That's why I founded Elder Emo Therapy - to provide a safe and welcoming space where my clients can come as they are, with no need to pretend or hide their true selves. I believe that therapy should be a place where you feel fully seen and heard, where you can be vulnerable and honest without fear of judgment. We've spent WAY too much of our lives being told to, or feeling like we need to pretend that we're okay or someone we're not…
Spoiler alert: THAT'S NOT OKAY.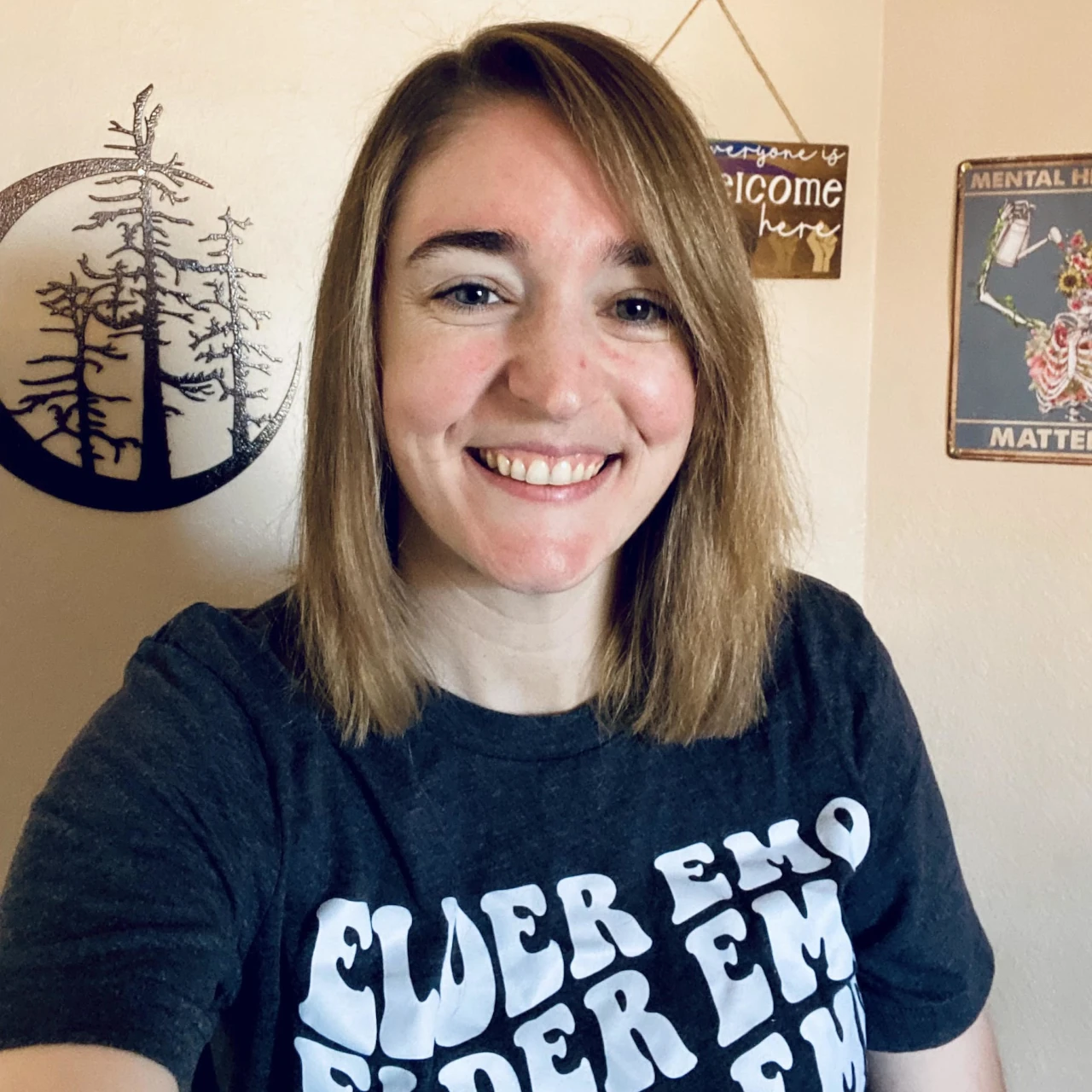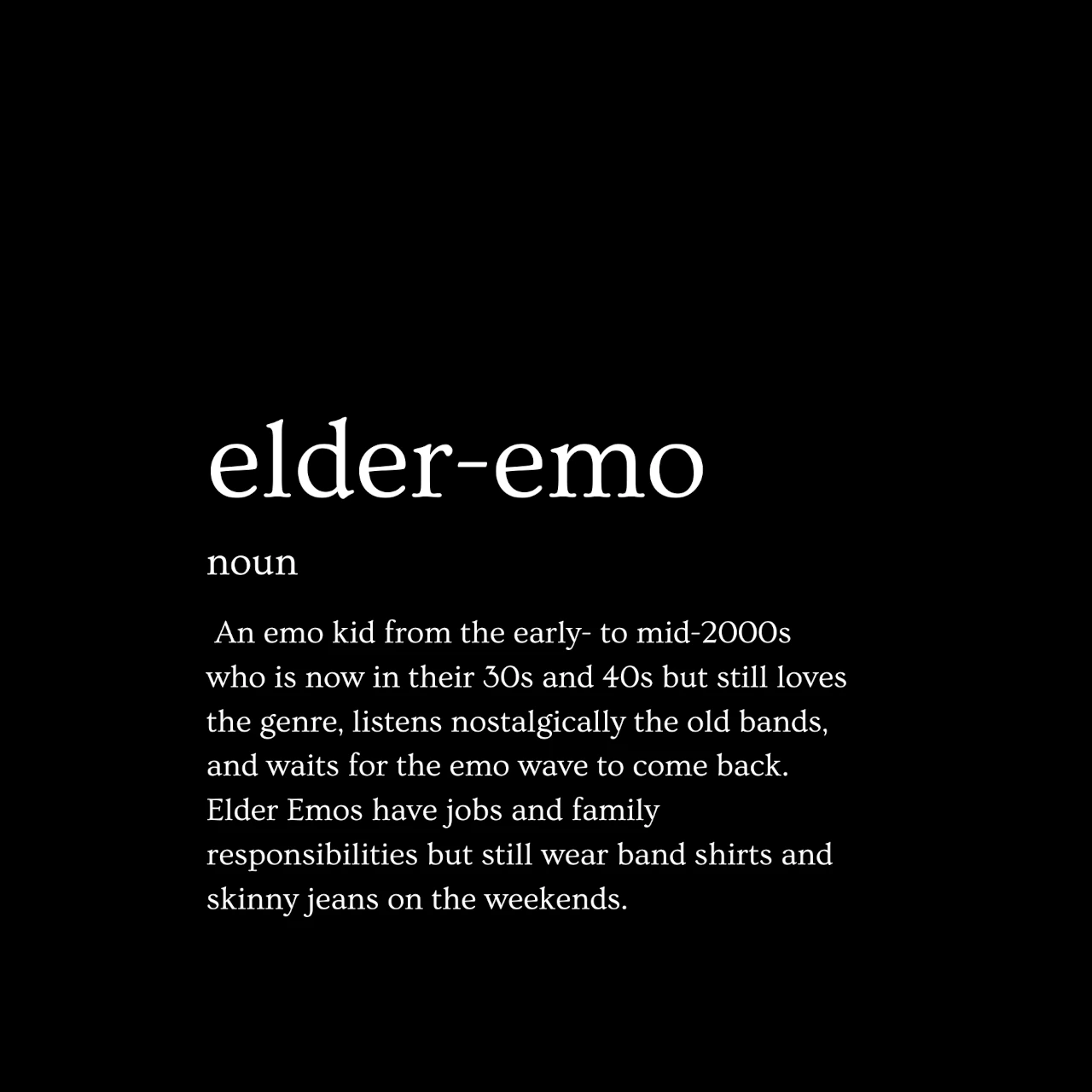 Approach and Experience
My Philosophy: Embracing Emotions
The essence of my therapeutic approach lies in the deep belief that to move beyond our feelings, we must genuinely experience and understand them. Our emotions are not just fleeting reactions; they are signposts, guiding us to recognize our needs and desires. By honoring and embracing these emotions, we not only build the confidence to face them but also understand the narratives they're telling about our lives.
Emotion-Focused Therapy: Connecting with Your True Self
As an emotion-focused therapist, my primary goal is to guide you in recognizing, labeling, and understanding your emotions. From there, we delve deeper to uncover the needs and desires associated with each emotion. This process is crucial in making informed, grounded decisions, rather than ones rooted in the chaotic whirlwind of unchecked feelings. We'll also work on effective strategies to communicate these feelings, ensuring you're heard and understood in various aspects of your life.
Exploring the Past to Understand the Present
Utilizing the principles of Accelerated Experiential Dynamic Psychotherapy (AEDP), we will venture together into understanding how your past experiences shape your present reactions, decisions, and feelings. This therapy is about fostering resilience and helping you navigate your emotions with a trauma-informed lens. It's a journey of self-exploration, understanding your relationship with yourself and the world around you.
Your Journey, Our Collaboration
Therapy, in my view, is not a one-size-fits-all solution. It's a collaborative process. We'll intertwine our efforts to identify the "golden thread" in your life, understanding patterns, behaviors, and emotions. This understanding then becomes the foundation upon which we build strategies for behavioral change.
Authenticity Above All
Founded upon my personal journey towards authenticity, Elder Emo Therapy serves as a safe haven. Here, you can come as you truly are, without any pretense. It's a space to be seen, to be heard, and to delve deep into self-exploration without any fear of judgment. After all, wearing a façade and suppressing our true selves isn't just exhausting—it's detrimental. And you deserve better.
Remember, your feelings are valid. It's not only okay but essential to express yourself, take up space, and be unapologetically genuine in your emotions. I am here, offering an emotionally safe and supportive space, ensuring that your journey towards self-understanding and self-love is as fulfilling as it should be.
Inclusivity at Its Core: Queer, Neurodiverse, and Culturally Competent Therapy
As a queer and neurodiverse therapist, I understand firsthand the nuances and intricacies that come with navigating a world that often feels exclusive. I am proud to offer a therapeutic space that is deeply informed by and committed to:
Trauma-Informed Care: Recognizing and responding to the signs of trauma is paramount. Our therapy sessions are crafted to prioritize your safety, choice, and control.

Neurodiverse Affirming: Every brain functions uniquely, and it's time we celebrate that. Your neurodiverse experiences are valued and understood here.

LGBTQIA+: Your identity and orientation deserve respect and understanding. Here, you'll find a safe space to explore and express your LGBTQIA+ journey.

Polyamory Affirming: Love and relationships come in diverse forms. Whether you identify with polyamory or ethically non-monogamous, our sessions will honor and validate your experiences and relationship structures.

Cultural Competence: It's essential to understand and appreciate the nuances of different cultural backgrounds, and our therapy embraces this with an open heart and mind.

Body Positivity: Your body, your rules. Embrace self-love and acceptance as we dismantle harmful societal standards together. Guided by the principles of Health At Every Size, we'll challenge weight-based biases and celebrate body diversity, ensuring you feel empowered in your unique form.
Each individual brings a unique story, identity, and background into the therapy room. I'm here to ensure that every aspect of your identity is acknowledged, respected, and celebrated as we collaborate on your therapeutic journey.
Education
Licensed Marriage & Family Therapist #142561

Master of Arts in Counseling Psychology, emphasis in Correctional Psychology, Santa Clara University, 2019

Bachelor of Science in Psychology & Social Action, Palo Alto University, 2016
Additional Training
Level 1 AEDP Trained
Level 1 Gottman Trained
Internal Family Systems (IFS)
Cognitive Behavioral Therapy (CBT)
Dialectical Behavior Therapy (DBT)
Motivational Interviewing (MI)
Non-monogamy vs Polyamory
ADHD & ASD
Substance Use
Health At Every Size (HAES)